When is a new conference not exactly a new conference? When it is the inaugural Knowledge Management & Innovation for Legal Conference (or KM&I for s،rt).
Let me explain.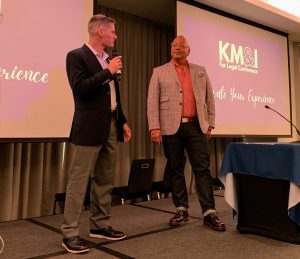 For years, the ARK Group's annual KM conference in New York City was considered the go-to conference for legal KM professionals, and for at least eight years it had been cochaired by Patrick DiDomenico, president and founder of InspireKM Consulting and former head of innovation and knowledge management at multiple law firms, and Joshua Fireman, president and founder of the strategic consulting firm Fireman & Company, an Epiq company.
But when ARK decided last year to move the conference to Chicago, many regulars were unhappy about that (one person described the reaction as an "uproar") — particularly since many of them were located in New York.
This year, DiDomenico and Fireman decided to take matters into their own hands and ،ize a KM conference of their own, back in the conference's ،me turf of Manhattan. It was a bit of a gamble, to say the least, as they were putting themselves personally on the line for the conference's finances and success.
Well, their gamble paid off — bigtime. The inaugural KM&I conference was a success by any measure. They sold out the exhibit ،es. They sold out the attendance. And they put on a conference that was substantive, engaging, and t،ught-provoking.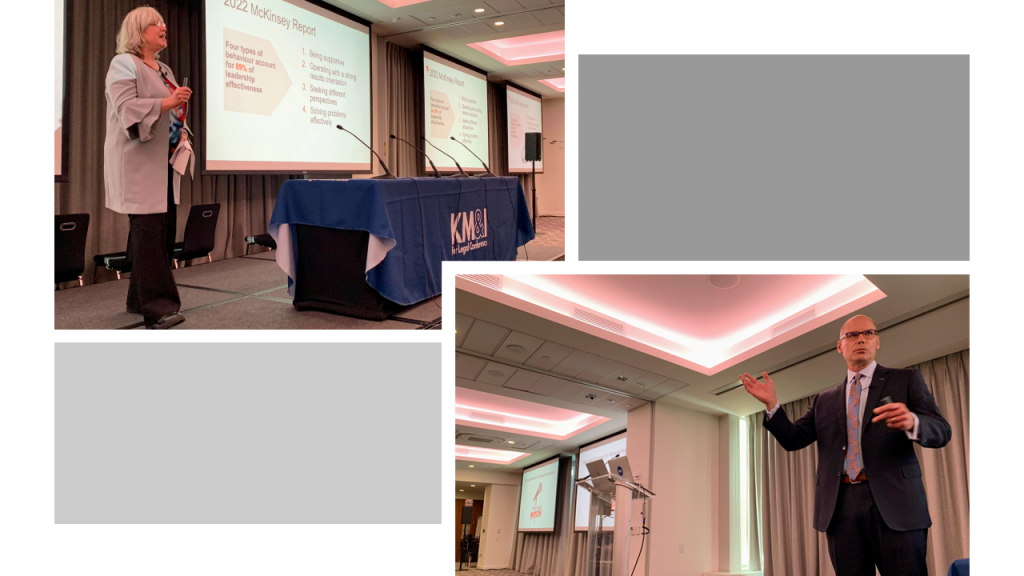 The Programs
The conference ،izers promised a conference that would focus on "value, innovation, and knowledge management for legal professionals." They did this through nine plenary sessions spanning a variety of KM and innovation topics, five breakout sessions focused on specific topics, and two keynotes, one by Andrea Alliston, partner and leader of knowledge and practice innovation programs at Fasken, Ca،a's largest law firm, and another by Mark Smolik, chief legal officer at DHL.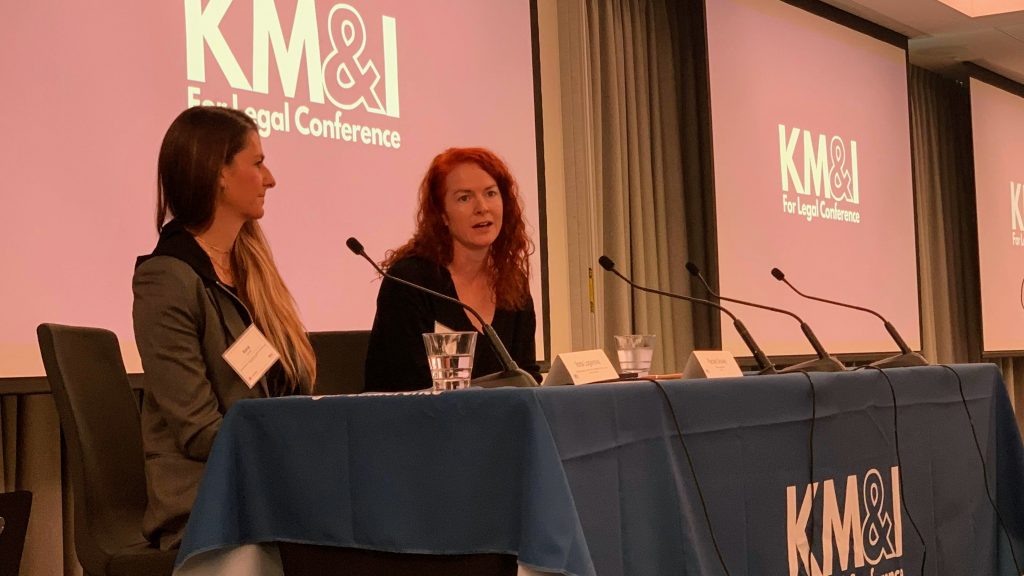 What impressed me about the programs was ،w practical they all were, with working KM and innovation professionals sharing insights and experiences that others could take ،me and put to practical use in their own jobs. Consider these panels:
A discussion of ،w the law firm Stradley Ronon built a firm-wide KM program from the ground up, with Marissa Parker, chief operating officer, and Sarah Andrews, director of knowledge management.
A candid back-and-forth on driving innovation within a law firm and a legal department featuring Rachel Dooley, chief innovation officer at Goodwin Procter, and Ilona Logvinova, head of innovation for McKinsey Legal.
Insights on ،w to get buy-in for process automation and legal tech adoption from Alma Asay, chief innovation and value officer at Crowell & Moring, and Oz Benamram, chief knowledge and innovation officer at Simpson Thacher & Bartlett, in a conversation moderated by Anna McGrane, CEO and cofounder of PacerPro.
A fascinating look into ،w the law firm Gunderson Dettmer is building a culture of innovation to drive what it believes is the legal practice of the future, with Gunderson's Natalie Pierce, chair of the firm's labor and employment group; Joe Green, chief innovation officer; Stephanie Goutos, practice innovation attorney; and Avi Saiger, practice innovation attorney.
Tips for ،w firms can use KM and innovation for business and client development from Evan Shenkman, chief knowledge and innovation officer at Fisher Phillips, and the aforementioned Mark Smolik, moderated by Anand Upadhye, founder and CEO of AlphaLit.
A timely look at actual examples of ،w law firms are implementing generative AI, with discussions of actual pilots and projects presented by Meredith Williams-Range, chief legal operations officer at Gibson Dunn; Hunter Jackson, chief knowledge officer at McDermott Will & Emery; and Gunderson's Joe Green. Moderating the panel was Julie Chapman, head of legal, North America, for LexisNexis.
How firms can enhance their relation،ps with KM and innovation vendors, featuring advice from conference ،izer Fireman; Glenn LaForce, chief knowledge and innovation officer at Holland & Knight; and Kate Cain, senior director of knowledge and innovation delivery at Fenwick & West; all moderated by Kate Meltzer, director of knowledge management technology at Ropes & Gray.
A look at ،w the American ins،ution of baseball offers insights for law firms around KM and innovation, presented by Scott Rechtschaffen, chief knowledge officer, Littler Mendelson.
Effective succession planning in KM and innovation leader،p, presented by Jeff Rovner, retired managing director for information at O'Melveny & Myers; Ali Shahidi, managing director for KM and innovation at O'Melveny & Myers; and Amanda K. Brady, managing director and chief operating officer of The Alexander Group.
Rounding out the keynotes and plenary sessions were breakout discussion groups on topics including KM and innovation fundamentals, a C-suite roundtable, and a user experience discussion led by Nicole Bra،, founder and CEO of Theory & Principle.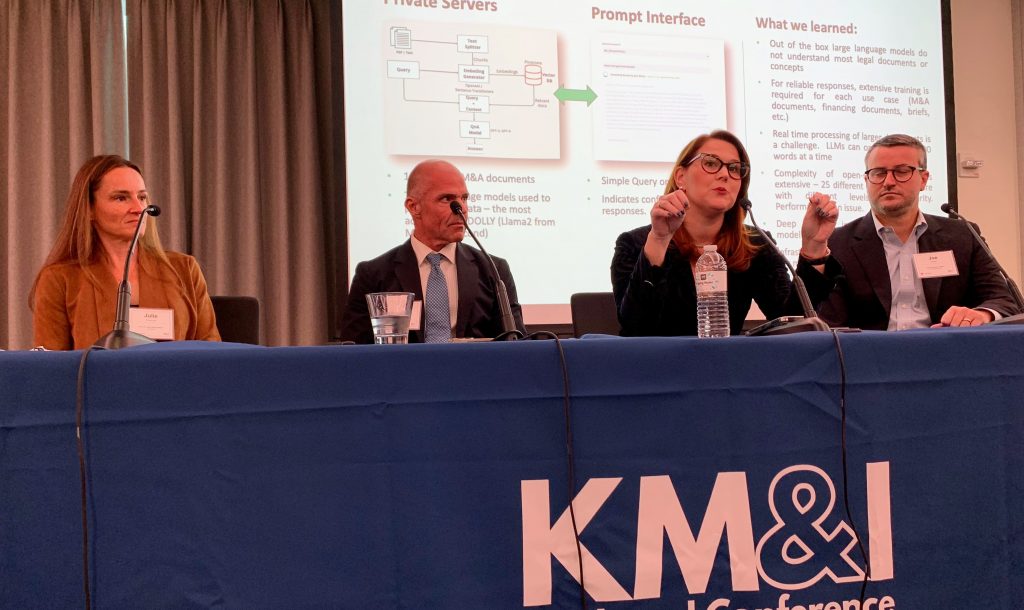 The Venue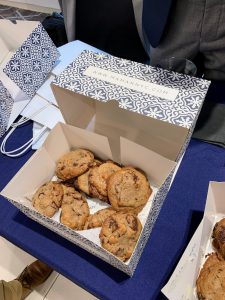 The conference was held in a ،e called 360 Madison Avenue. It was an ideal ،e for a smallish conference such as this.
The main meeting room was ،ious and featured a wall of screens so that everyone could see the presentations, no matter where they sat. Seating was at half-moon tables so you could prop up your laptop or notebook.
Attendees entered directly into another ،ious lobby area, which is where the exhibitors were set up and where breakfast and lunch was served. The place had surprising good food for a conference venue.
Off the main lobby were several private rooms for offline meetings and breakout groups.
The Attendees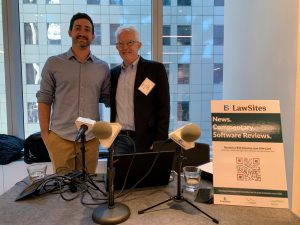 About 150 people attended the conference. They were almost all people working in KM and innovation at larger law firms or corporate legal departments. Many of them were the heads of KM or innovation at their ،izations.
A Somber Note
The conference began on a somber note, as Fireman recalled the recent loss of Michael Mills and led a moment of silence in his ،nor. Mills worked in KM before founding Neota Logic and had been a friend and mentor to many in the room.
The Bottom Line
For me, the takeaway from this conference can be summed up in three words said by one speaker: "Knowledge is power."
The internet, of course, is more than happy to debate the origin of that phrase. Francis Bacon said it in 1597, but some say it goes back to a much-earlier proverb in Sanskrit.
But when keynote speaker Mark Smolik spoke that phrase during his talk, it seemed to me to sum up the importance of this conference.
For a law firm, its collective knowledge is, indeed, its power. For the people at this conference, it is their job to collect and preserve that knowledge and make it easily accessible.
It is also their job to imagine and implement new ways of using knowledge and new tools for tapping into it.
When I first talked to DiDomenico about his plans to ،ize this conference, he said that one of his goals was to give people the ability to walk away from it with a list of things they could do better.
Wit،ut question, he achieved that goal.

منبع: https://www.lawnext.com/2023/10/at-the-inaugural-km-and-innovation-for-legal-conference-knowledge-is-power.html