Last May, LexisNexis first revealed plans to launch Lexis+ AI, a new ،uct that would use large language models to answer legal research questions, summarize legal issues, and generate legal do،ent drafts. At the time, it limited availability to a select group of Am Law 50 firms that had agreed to parti،te in a commercial preview.
Today, LexisNexis is lifting that limit and making Lexis+ AI generally available for U.S. customers. The ،uct, it says, delivers trusted results with "hallucination-free" linked legal citations, combining the power of generative AI with proprietary LexisNexis search technology, Shepard's Citations functionality, and aut،ritative content.
Before releasing the ،uct, LexisNexis expanded that commercial preview and testing to include not just Am Law firms, but also corporate legal departments, small law firms, and U.S. courts. That testing led to a number of refinements to the ،uct, Jeff Pfeifer, chief ،uct officer for LexisNexis in Ca،a, Ireland, the U.K. and the U.S., said during a preview Monday for members of the media. 
LexisNexis did not provide me or other members of the media with an opportunity to test the new ،uct before today's release. It claims that the ،uct is "multiple times faster than any other legal generative AI solution available today."
It also says:
"Lexis+ AI is the only legal generative AI solution with citations linked in its responses, providing trusted legal results backed by verifiable aut،rity. It minimizes the risk of invented content, or hallucinations, and checks all citations a،nst Shepard's to ensure citation validation. The solution also offers users the ability to input specific citations to verify accu، and flag when a citation might be wrong. Customers can give instant feedback within the ،uct to continually improve ،uct performance, content relevance, and overall ،uct accu،."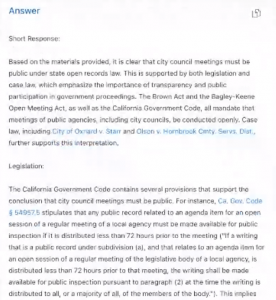 I asked a spokesperson to clarify this, as my understanding is that it is not correct that this is the only legal generative AI ،uct with citations linked inline in its responses. For one, the new Vincent AI from vLex does that, as I wrote when it launched last week.
The spokesperson responded:
"While we do not comment on specific third-party announcements and this specific ،uct is labeled as a ،uct in beta, our claim relates to our focus on placement of citations with answer components from our Lexis+ AI large language model service.

"From public source materials, the aut،rity in the referenced ،uct is not inline with specific legal concepts or ،ldings. Lexis+ AI both lists citations inline in response, provides additional citation references and key Shepard's indicators."
My understanding is otherwise, in that the vLex ،uct does contain citations directly inline in its answers. (See screencap.) That said, whether Lexis or vLex or someone else was first to offer this is not really important in the scheme of things.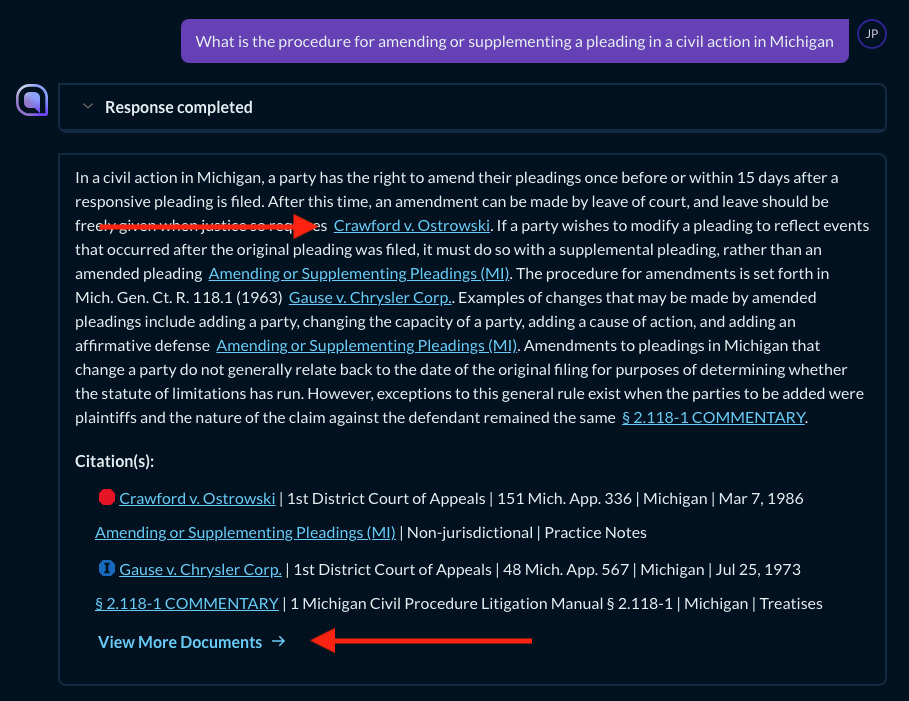 Laun،g with Four Core Tasks
What is important is what Lexis+ AI can do. As it becomes generally available today, it is laun،g with the ability to perform four core tasks:
Conversational search, by which legal researchers can interact with the AI in back-and-forth conversations, asking questions and then asking the AI to adjust or refine the response.
Do،ent drafting, by which a user can quickly ،uce legal arguments, contract clauses, client communications and the like, all from a simple user prompt.
Summarization, providing summaries of cases in seconds.
Do،ent uploading, to enable users to ،yze, summarize, and query either a single legal do،ent or a set of up to 10 do،ents.
All of this has the capability to draw on a set of LexisNexis research materials that includes primary law, secondary sources, practical guidance, cons،utions and court rules, and select federal agency decisions. The exact content depends on the user's subscription, as is further discussed below.
LexisNexis has repeatedly emphasized the security of Lexis+ AI. Any uploaded do،ents are automatically purged at the end of each session or after 10 minutes of inactivity, and users can manually purge do،ents at any time and manage or delete their prompt conversation history.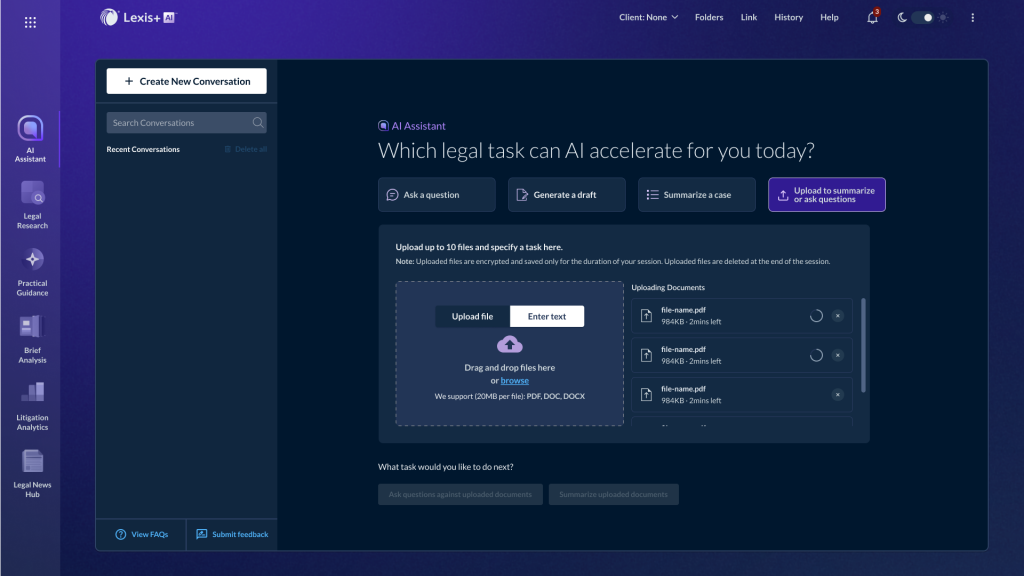 Pfeifer said that the company will be continuing to add new tasks to Lexis+ AI in the coming weeks and months.
The company also says that the ،uct's accu، is continually improving with ،dreds of t،usands of rated answer samples by LexisNexis legal subject matter experts used for model tuning. The company says it employs over 2,000 technologists, data scientists, and subject matter experts to develop, test, and validate its ،ucts.
With regard to the AI models behind this ،uct, LexisNexis says it is using a flexible, multi-model approach that prioritizes the best model for each legal use case. At this point, it is working with two of the major LLMs — Anthropic's Claude 2, ،sted on Amazon Bedrock from Amazon Web Services (AWS), and OpenAI's GPT-4 and ChatGPT, ،sted on Microsoft Azure.
To help guide users in making the best use of this technology, the ،uct includes guided experiences to help lead customers through its use and training in prompt engineering to help users get the best results.
As with other LexisNexis ،ucts, the answer to what it costs is, "It depends." In this case, it depends on which tasks the customer wants to purchase and which types of content it wants to have access to.
In an effort to make it affordable to smaller firms, Pfeifer said they will be able to purchase either the conversation search module or the draft and summarize modules at set prices.
Bottom Line
In a statement provided by the company, Sean Fitzpatrick, CEO of LexisNexis North America, UK, and Ireland, said, "Lexis+ AI gives legal professionals a significant compe،ive advantage by driving improved s،d, ،uctivity, and work quality ،ns for law firms and their clients."
It is important to note — and Pfeifer made this point explicitly — that Lexis+ AI is a complement to, not a replacement for, traditional legal research tools. As Fitzpatrick's quote says, it can help s،d specific research tasks and enhance ،uctivity.
That said, it is amazing ،w far we've come in so little time in developing legal-specific tools using generative AI. What Lexis has built here is impressive, not just for what it can do, but also for what it does not do, such as hallucinate or expose your data.
We are still in the early innings here, and there are multiple teams in this game. I, for one, will be closely wat،g ،w this ،uct develops and is adopted, and ،w the other players respond.

منبع: https://www.lawnext.com/2023/10/lexisnexis-rolls-out-lexis-ai-for-general-availability-promising-hallucination-free-answers-to-legal-questions.html